Nepal Earthquake 2015
Nepal is one of the poorest countries in the world and is therefore classed as a low-income country. It is located between China and India in Asia along the Himalayan Mountains.
At 11.26 on Saturday 25th of April 2015 a magnitude 7.9 earthquake struck Nepal. The focus was only eight kilometres deep and the epicentre was just 60 kilometres north-west from the capital Kathmandu, the capital city of Nepal. It's a city of 700,000 inhabitants and is popular with tourists planning to treck in the Himalayas, home of Mount Everest.

What caused the Nepal Earthquake?
The earthquake occurred on a collision plate boundary between the Indian and Eurasian plates.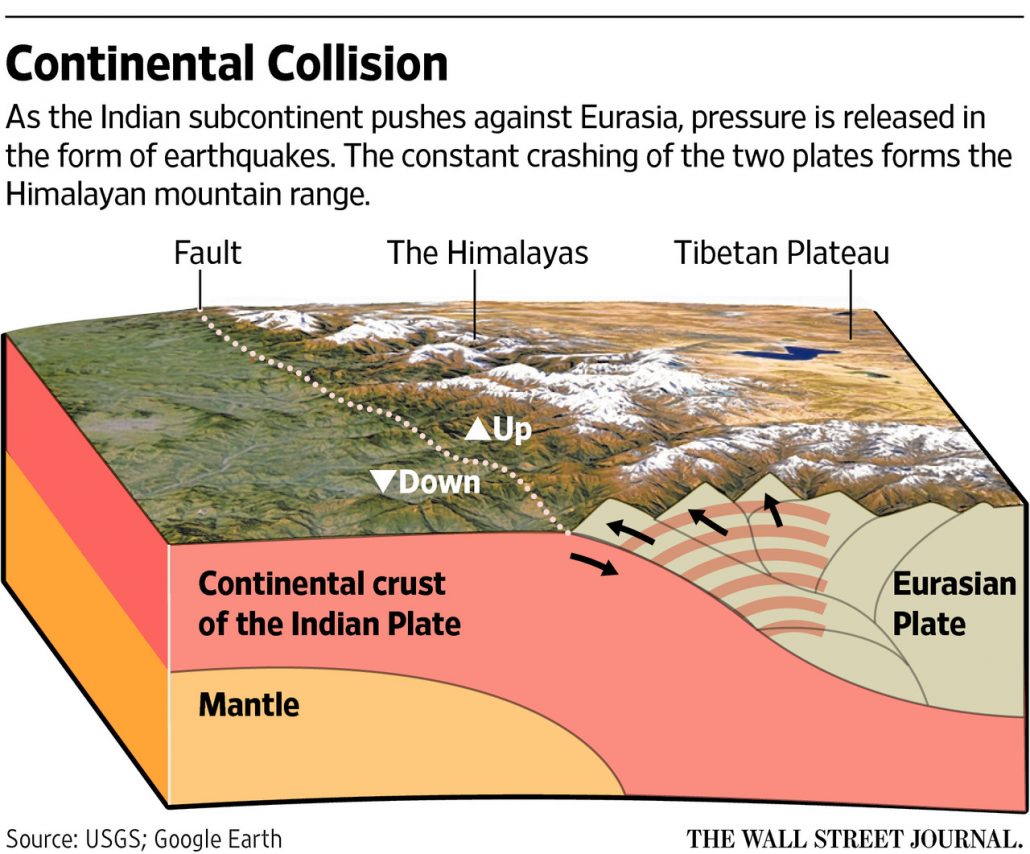 Impact
Infrastructure
Centuries-old buildings were destroyed at UNESCO World Heritage sites in the Kathmandu Valley, including some at the Changu Narayan Temple and the Dharahara Tower.
Thousands of houses were destroyed across many districts of the country.
Social and economic
8,632 dead and 19,009 injured.
It was Nepal's worst

earthquake

in more than 80 years.
People chose to sleep outside in cold temperatures due to the risk of aftershocks causing damaged buildings to collapse.
Hundreds of thousands of people were made homeless with entire villages flattened.
Harvests were reduced or lost that season.
Economic losses were estimated to be between nine per cent to 50 per cent of GDP by The United States Geological Survey (USGS).
Tourism is a major source of revenue in Nepal and the

earthquake

led to a sharp drop in the number of visitors.
At least 17 people were killed by an avalanche at the Mount Everest Base Camp.
Many landslides occurred along steep valleys. 250 people were killed when the village of Ghodatabela was covered in material.
Immediate Response
India and China provided over $1 billion of international aid
Over 100 search and rescue responders, medics and disaster and rescue experts were provided by The UK along with three Chinook helicopters for use by the Nepali government.
The GIS tool "Crisis mapping" was used to coordinate the response.
Aid workers from charities such as the Red Cross came to help.
Temporary housing was provided, including 'Tent city' in Kathmandu.
Long-term Response
A $3 million grant was provided by The Asian Development Bank (ADB) for immediate relief efforts and up to $200 million for the first phase of rehabilitation.
Many countries donated aid. £73 million was donated by the UK (£23 million by the government and £50 million by the public). In addition to this, the UK provided 30 tonnes of humanitarian aid and eight tonnes of equipment.
Related Topics
Use the images below to explore related GeoTopics.
Amatrice Earthquake Case Study