UK Floods Case Study November 2019
The UK experienced an extreme weather event in November 2019 when exceptionally heavy rainfall caused flooding in parts of the UK. Heavy downpours across large parts of northern England led to surface water and river flooding in parts of Yorkshire, Nottinghamshire, Greater Manchester, Derbyshire and Lincolnshire.
According to the Met Office, on Thursday 7th November 2019 over half of the average rainfall for the whole of November fell in parts of the Midlands and Yorkshire.
If you have images and/or videos of flooding or an eye witness account that you would be happy to share on an interactive flood impact map we are developing please send them [email protected]
What caused flooding in the UK in November 2019?
A large area of prolonged rainfall fell on parts of the UK in November 2019. Some areas experienced the whole of Novembers average rainfall over a period of 24 hours. Sheffield experienced 84mm of rainfall. The rainfall was caused by an area low pressure stalling over the UK.
Further reading/watching:
What were the effects the extreme weather in November 2019?
About 500 homes have been flooded in Doncaster with more than 1,000 properties evacuated in areas hit by the floods.
South Yorkshire Fire and Rescue said it had declared a major incident on the evening of Friday 8th November and firefighters rescued more than 40 people from the Fishlake area, near Doncaster. Residents of Fishlake said it was the first time the village had flooded in 100 years.
Empty coffins were seen floating inside the workshop of a flooded funeral parlour in the village.
Some villagers had to spend the night at a nearby pub, where staff said they had seen people crying because of the devastation.
The village church is collecting food to distribute to residents and roast dinners were delivered on Sunday to those who had remained in their homes.
Reseidents have complained that the River Don has not been dredged recently.
According to the BBC, Adrian Gill, a flood manager at the Environment Agency, said did not currently dredge the River Don "because we don't think that's the right thing to do" but the situation could be reviewed in the future.
Water sports enthusiast and teacher Mark Ibbotson, from Doncaster, said he, along with his 13-year-old son Logan, had rescued more than 30 people – including two babies – from a number of streets using his inflatable boat in Bentley where homes have been hit by flooding.
One of the most severely hit areas has been Bentley in Doncaster, where flooding affected many homes 12 years ago.
One resident told BBC Radio Sheffield: "The worry is our insurance policies are expensive as it is because of the 2007 floods, so now we're all worried whether we're going to get reinsured."
Extensive flooding affected Rotherham, where residents were told to stay at home and not leave unless asked to do so by emergency services. Some have been taken to safety by boats.
Dozens of people were forced to spend the night in the Meadowhall shopping centre.
In Derbyshire, the River Derwent at Chatsworth reached its highest recorded level and council workers put up sandbags around Matlock and Matlock Bath, where the river was "dangerously high".
A number of properties in Derby city centre were flooded, however, a full evacuation was not ordered as the River Derwent didn't burst its banks to the extent emergency services believed it would.
The A52 – the main road route into Derby – was closed westbound between the city and the M1 along with a handful of smaller roads in the county.
Residents from 12 homes in Mansfield, Nottinghamshire, were unable to return home after a mudslide on Thursday led to 35 properties being evacuated.
In Nottinghamshire, residents living in mobile homes close to the River Trent in Newark were urged to move to higher ground.
On Friday, the floods claimed the life of a woman who was swept into the River Derwent at Rowsley in Derbyshire. Her body was found about two miles away in Darley Dale. She was named earlier as Derbyshire's former High Sherriff Annie Hall.
Trains were cancelled in Yorkshire and parts of the East Midlands as rail routes were flooded.
BBC reporter Richard Cadey said some roads around Fishlake had been closed and the village was "effectively cut off because of flooding". He said people on the ground had told him 90% of the homes there had been flooded.
The River Don, which flows through Sheffield, Rotherham and Doncaster, hit its highest recorded level at just over 6.3m (21ft), higher than it was in 2007 when it also flooded.
Sources:
England flooding: River warnings and rail delays continue
Flooding in pictures/videos
Torrential downpours flood parts of northern England – BBC
Flooding in Yorkshire – In Pictures – The Guardian
England flooding: A tour of a flooded house in Fishlake
River Derwent Flooding – Drone Video
Helicopter captures footage of flooded South Yorkshire
What were the responses to the UK floods in November 2019?
More than 100 flood warnings were put in place across England. The Environment Agency (EA) urged people to take them seriously.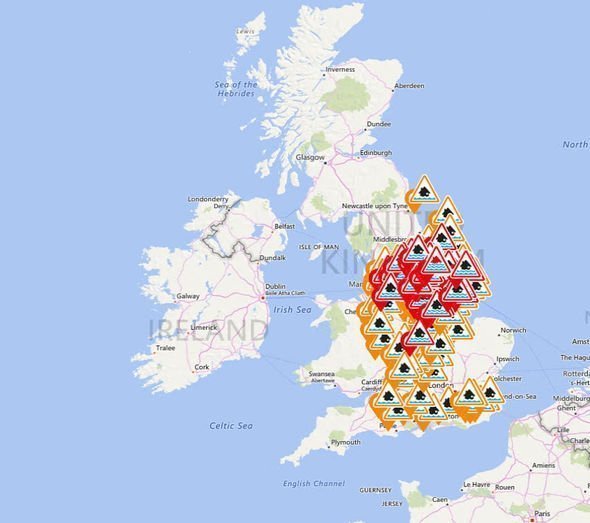 The Environment Agency took to social media to warn people about the potential impacts of flooding.
AMBER warning for flood risk today ⚠️- rain will rotate over north and north midlands bringing heavy rain on already sodden ground – take care – flood warning updates here https://t.co/K5GUW3z87V pic.twitter.com/mDDAC3uLXc

— John Curtin (@johncurtinEA) November 7, 2019
The Environment Agency worked day and night to reduce the impact of flooding. The Environment Agency responded to the flood risk by working closely with police, fire and rescue, local authorities and partners to reduce the risk of flooding and keep communities safe. On the ground, Environment Agency field teams worked through the night to operate flood storage areas and pump away flood water.
A major incident was declared in South Yorkshire,
Some residents were "angry and frustrated" at Doncaster Council – claiming it had not provided sandbags early enough to prevent properties from flooding, the station reported.
Political leaders visited areas affected by floods. On the campaign trail Boris Johnson promised over £2 billion to improve flood defences.
South Yorkshire Police said it had extra officers out on patrol to "protect the evacuated areas and support those affected by the floods".
Following a meeting of COBRA, the government's emergency committee, Prime Minister Boris Johnson anounced the following measures:
An extra 100 Army personnel deployed from Wednesday to support the recovery effort in South Yorkshire
Funding for local councils where households and businesses have been affected – equivalent to £500 per eligible household
Up to £2,500 for small and medium-sized businesses which have suffered severe impacts not covered by insurance
Six days after the heavy rain, army personnel provided support to flood-hit communities.
Further reading/watching:
Environment Agency warnings
Environment Agency working day and night to reduce flood impact
How effective were the mitigation strategies introduced since the 2007 floods?
Flood defences put in place in South Yorkshire managed to significantly reduce the impact of Thursday's floods, the Environment Agency (EA) has said.
River levels in parts of the county rose overnight to almost the same as they were in June 2007, when two people died in Millhouses and the Wicker.
Despite a major incident being declared on Thursday, the EA said the area was protected by new walls and flood gates.
The river levels around Meadowhall were high, but the EA said its defences, as well as the ones put in by Meadowhall, had lessened the damage.
Elsewhere in South Yorkshire, £3m was spent by the EA to repair and improve defences running along Ea Beck, in the villages of Toll Bar and Bentley near Doncaster.
However, people living in settlements downstream of Sheffield have complained about the impact of the recently constructed defences. In Bentley, a low-lying neighbourhood on the north side of the River Don, forlorn terraced streets are still knee-deep in water. "You don't have to be a hydrologist to see what's happened," said one man interviewed by a Guardian journalist. "Sheffield built flood defences in 2015-16. They spent about £20m protecting the lower Don. So the water has nowhere to go than the next place, Rotherham and then Doncaster." He went on to say that residents received a "red alert" on Thursday night that there was a risk of flooding. He phoned an emergency number and requested sandbags. He was told that the council was not going to distribute them because the River Don's banks had not been breached.
When the sandbags eventually arrived the community worked together to distribute them.
Sources
South Yorkshire flooding: Defences 'reduce impact'
Related articles:
Related Topics
Use the images below to explore related GeoTopics.